Questions or Comments?
E-mail the Webmaster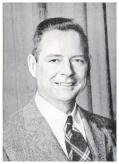 We are living, we are constantly reminded, in an era of explosions - of knowledge, of population, of ideology. The evidence of potential consequences of these explosions are everywhere for one who has his eyes and his mind open.

This message is a plea to you, the members of the Class of 1961, regardless of your direction and destiny, to heed, to take stock, and to use your own peculiar talents to the fullest to comprehend, to cope with, and to endeavor to make the consequences of these explosions contribute to good in the world, to progress, to understanding, and to the improvement of human relations around the globe.

There is no insulation against the realities of our time. Use the start that your family, your church, and your school have helped you to make to build on, to become better equipped. Use the tools you have acquired in school to broaden your perception, to increase your comprehension, to grow in wisdom. Make the world a little better world because of what you did.

Our sincere best wishes and high hopes accompany you on your way.
Theron R. Stinchfield
Principal